Home
PUBz
Grafx Pax
Tips & Trix
Linx
Neo-Talk
Filez
Search



NEW!

FREE HTML Viewer for NeoBook



Lots of VERY Fast Functions
FREE!

FREE Add-On for NeoBook
21 Fast and Powerful Functions
"A Must Have Add-On"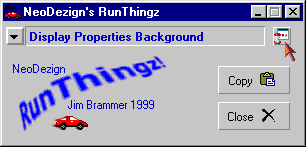 NEW VERSION adds MANY new functions and a Test-Run button!
Wizard-like interface creates DOSCommands for Control Panel Applets and various other Windows functions.
Commandz List:

Accessibility

Add / Remove Programs
Add New Hardware
Add Printer
Create Desktop Shortcut
Date / Time
Desktop Themes *
Device Manager
Display Properties Background
Display Properties Screen Saver
Display Properties Appearance
Display Properties Settings
Find Files or Folders
Format Floppy
Game Controllers
Hardware Profiles
Internet Connect
Internet Properties
Keyboard
Mail and Fax
Modem
Mouse Properties
MM Properties - Audio
MM Properties - Video
MM Properties - MIDI
MM Properties - CD Audio
MM Properties - Advanced
Network Configuration
ODBC Data Source Administrator *
Open Disconnect Network Drive window
Open FONTS Folder (#1)
Open FONTS Folder (#2)
Open Map Network Drive window
Open Printer Folder (#1)
Open Printer Folder (#2)
Passwords
Play ActiveMovie Media
Power Properties
Quick Time 32 *
Regional Settings
System Performance
System Properties
Tweak UI *
WinExit - Ask
WinExit - Restart
WinExit - ShutDown
Install a Screen Saver
Check it out

History

7/17/1999 - added "test-run" button
7/14/1999 - added many more commands!!
7/10/1999 : Added "Find Files or Folders"