Speaking for myself, I usually don't make presentations or e-book type programs with NeoBook. I usually make small utility apps for this or that. Because of this I usually always have a certain style button that I use, text input boxes, radio buttons, etc. But, this should work for most anyone regardless of how you use NeoBook.

I got tired of remaking all these objects each and every time I started a project so, I made a generic PUB that has all these. Text lables are already set with the font I like, spin controls are ready-made, option button sets are already grouped.

I saved this PUB as Default.PUB then edited the shortcut for NeoBook like this...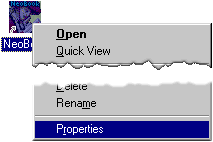 "C:\NeoBook for Windows\NeoBook.exe" "C:\NeoBook for Windows\Default.PUB"


Now, each time I start NeoBook, Default.PUB is opened with all the objects and controls I use most often already made.


At this point all I have to do is re-size the book if necessary, re-arrange objects on the page, then save the PUB as another filename.
You can also protect your Default.PUB file by making the PUB file Read Only. This will prevent you from inadvertantly overwriting your template PUB with unwanted changes. NeoBook also creates a .BAK file. You'll need to set this file Read Only as well.