Each step in the Wizard process builds the command set for each of the buttons and actions in your NeoBook program. This utility will create a Navigation Toolbar arrangement to provide a means to move through and maintain your database.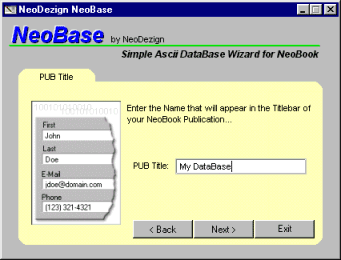 The Navigation Toolbar consists of...
First, Prev, Next, Last, Add, Insert and Delete Record buttons...





After you run through the Wizard the NeoBase program creates a PUB file in the NeoBase folder as the same name you had given the PUB Title. Open it in NeoBook and you can begin working immediately!
This program is only a utility to help you get started making your own database program in NeoBook. It is not intended to be finished product. There is room for improvement. You could add a search routine, use an add-on to Open and Save other data files, add printing, any number of things...